I put a through hull in the boat with Dad yesterday! Is was pretty awesome! But before I tell you how I did it, I'll explain what a through hull is.
A through hull is a hole in the boat that lets water go in and out of the boat. Don't worry, most of them only let water go out, we're not going to sink.
We also use them to let the toilet waste go out and let salt water in to use as flushing water.
First, we went to the boat-yard shop and bought something called a ball valve and a through hull or skin fitting.
A ball valve is a valve that has ball with a hole inside of it. The handle turns the the ball inside. So, for instance, if I turned the handle 45 degrees the valve would be half open, so it lets some water through but not much. If I turned it another 45 degrees (which adds up to 90 degrees), then it would be fully open. If I turned it back 90 degrees, the valve would be closed and nothing could go in or out. The ball valve can only let water go in and out, not just one way, which sometimes isn't the best to use for some through hulls.
A through hull or skin fitting is a fairly simple piece of technology. At the top there is a flat piece of metal or plastic that makes sure that it doesn't fall off. The same is used for the nut on the other side. The only thing different from screws and through hulls, is that through hulls have a hole on both sides.
First, we drilled a hole with a 35 mm diameter with a special type of drill part called a hole saw. We had to drill the hole from one side to about half way then drill from the other side until it met the first drill hole. If we had done it from one side only, it would have exploded the paint work in that area when it reached the other side.
Then Dad got something called an angle grinder to sand the paint off where we had drilled the hole, so we could stick the through hull in with epoxy. We did that because it wouldn't stick to paint.
Soon, Dad and I were wearing gloves and masks and mixing slow hardener (because we are in a warm climate),  epoxy resin and colloidal silica (to thicken it) to make epoxy.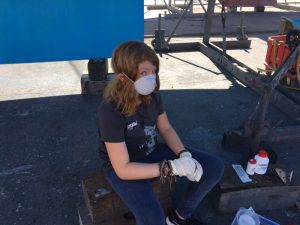 We mixed the epoxy, then used it to stick the through hull in the hole that we had drilled earlier. The next day, we screwed the ball valve in and now we have a perfect working through hull with a strong, reliable valve for our bilge pump!
Thanks for reading,
Iris 🙂